You're looking for a special gift to surprise your Valentine? Instead of jewels and flowers try this special and delicious cheesecake to demonstrate your love. Don't forget: The way to a man's heart is through his stomach (guilty for a woman's heart too).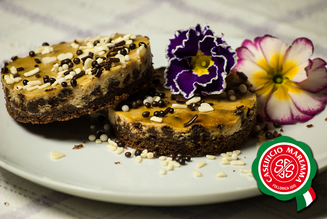 Ingredients:
Dough:
250 g chocolate cookies

150 g butter
2 spoons of brown sugar
Ripieno:
600 g Ricotta Maremma
200 g cream cheese
200 g sugar
2 envelopes of vanilla sugar
3 eggs
1 spoon of cinnamon
150 g chocolate drops
1 spoon of honey
salt
Blend the cookies with the brown sugar and add the melted butter till you get an homogeneous dough. Put some baking paper on the ground of a 26 cm diameter baking mould and grease the borders with some butter. Fill the dough in and press it with your hands till the bottom is covered. Put it in the refrigerator for half an hour.
Mix the remaining ingredients with the whisk of an electric mixer. Fill the cream on the cookie- dough- bottom and bake it in the 150°C (302°F) hot oven for 50-60 minutes. Take it out of the mould it cool down.