A delicious salty cake that combines the creamy taste of the two types of cheeses with the sweet taste of pear and the rustic taste of leek. Serve it as main dish with salad or as side dish to a roasted chicken.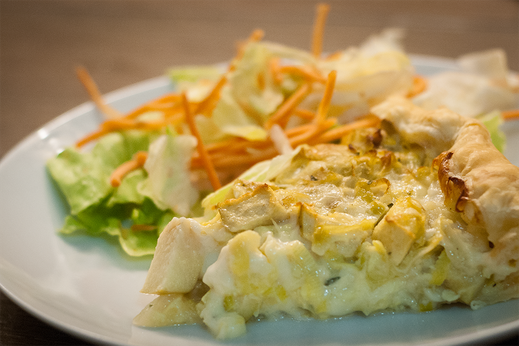 Ingredients:
A roll short pastry dough
2 cups sheep's milk ricotta (circa 500 g)
1 cup mixed cheese Caciotta (circa 250 g)
1 garden leek
2 small pears
Salt, pepper, olive oil, thyme
Other:
Tart pan (diameter 9 1/4" (240mm),  height 1)
Preparation:
Cut the leek into thin slices and the pear into small dices. In a pan heat some olive oil and roast gently leek and pear. Grease the tart pan and give the short pastry in it, prick the dough with a fork on the bottom, give backing paper on it and fill with pie weight (baking beans) and blind bake it for 10 minutes in the hot oven (180°C/ 356° F).
Meanwhile cut the Caciotta in dices and mix it with the ricotta, add the roasted leek and pears and spice with salt, pepper and thyme. Fill the cheese mix in the prebaked cake and bake in the hot oven (180°C/ 356° F) for 20-25 minutes. Let it cool down some minutes and enjoy it with a glass of white wine or a fresh beer.