Green raviolis with ricotta filling is a famous and delicious Italian receipt. The high quality and the compact structure of our ricotta render possible this receipt that use as filling only ricotta. 
Thanks to its characteristic taste and texture the filling doesn't drain off if the raviolis gets open while cooking them. The creamy soft taste of the ricotta is the perfect pairing for the aromatic taste of the spinach dough and the sweet tomato sauce.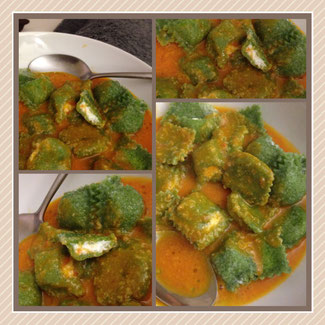 Ingredients:
1 ½ cups mixed ricotta from Caseificio Maremma (400g)
¼ cup goat's cheese from Caseificio Maremma (50g)
½ cup spinach (80g)
1 cup soft wheat flour type 0 (250g)
¼ cup semolina flour (50g)
2 eggs
Extra virgin olive oil
Salt
1 onion
2 tbsp. butter
2 cups cherry tomatoes
The recipe:
Cook the spinach with a tbsp. water in a pan until it gets soft and dryer, blend it. Add the flour in a large bowl and mix it with the semolina flour and 1 tsp. salt, add the eggs, 1 tsp. olive oil and the blended spinach. Combine well until you get a homogenous dough. Wrap the dough in film and let it rest in refrigerator for half-hour.
Meanwhile cook the tomato sauce: prick the tomatoes in some points and immerge them in boiling water for some seconds, then peel them. Cut them half and remove the seeds. Cut the onion in tiny dices and cook them in 2 tbsp. olive oil and the butter until they get glazed, then add the tomatoes. Simmer for half-hour. Blend it.
Cut the dough in 4 pieces and roll them very thin, then give 1 tsp. ricotta every 2 inch (5 cm) with some space between them on 2 pieces of the rolled dough and cover with the remaining dough. Press well the borders around the filling and cut the raviolis. Cook them for 3-4 minutes in boiling water (add 1 tbsp. olive oil and 1 tsp. salt) until the raviolis float to the top. Ladle them with a slotted spoon and give them in the hot tomato sauce. Grate the goat's cheese over it and enjoy.